Product Description
Mechanical precision maize/corn planter:
We supply 3 rows mechanical precision maize/corn planter machine is matched with tractor with more than 65 horsepower, one operation can complete stubble cleaning, fertilization, precision sowing and compaction and other processes.
The crop sowing mechanical corn planter with fertilizer adopt driving rotary type cleaning device, can effectively remove straw and stubble, which provide a good seedbeds for seeding and solve the problem of trench opener entanglement congestion.
The mechanical precision corn planter with fertilizer equipped with finger-clip seed metering device to ensure sowing precision and efficient operation of the unit.
Parameters of 3 rows mechanical precision maize/corn planter:
1. Model: 2BYF-3
2. Dimension: 1500X1600X1200 mm
3. Weight: 270 kg
4. Matched Tractor: 30~50 hp
5. Working width: 160 cm
6. Planting rows/fertilizing rows: 3/3
7. Row spacing: 40~60 cm
8. Seed metering device type: finger-clip type
Features of 3 rows mechanical precision maize/corn planter: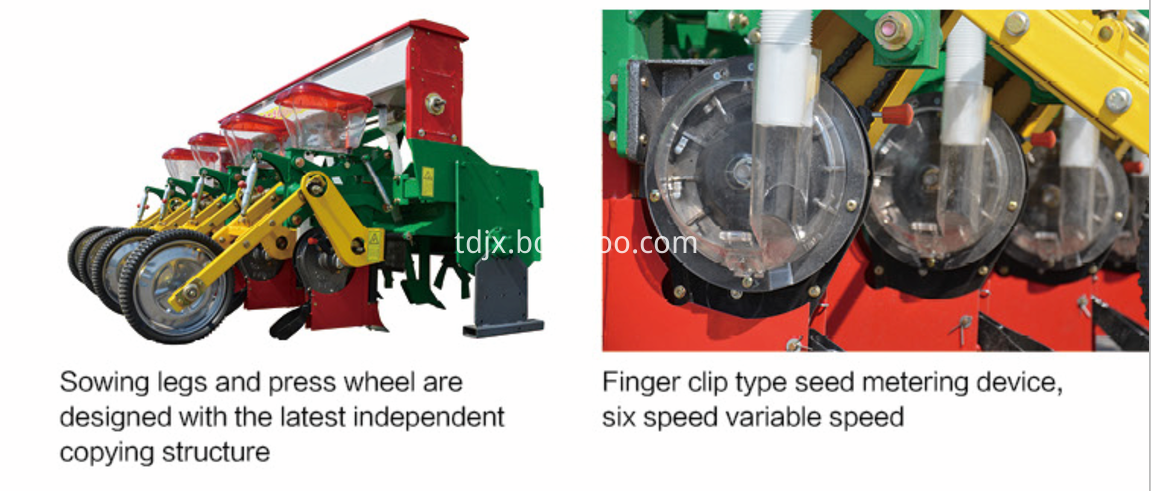 1 . The maize planter with fertilizer adopt vertical rotary blade to clear straw and stubble , which avoid soil moisture loss caused by soil disturbance .
2 . The maize seed planter using large mould side box transmission, high speed operation is more stable, large diameter cutter shaft cleaning effect is better .
3 . The sowing legs and pressing wheels are equipped with the latest independent copying mechanism, which is free to adjust and adapt to a variety of operating environments .
4 . The no-till seeder equipped with pinch-type precision seed metering device to improve the sowing precision, the operating speed can be 5~7 km/h when the operating conditions be allow.
Applications of 3 rows mechanical precision maize/corn planter: