Product Description
Hydraulic reversible flip plough:
Tractor mounted furrow reversible plough, its unique grid structure can reduce the fuel consumption and power, to the maximum turning effect and broken soil ratio. Traction line adjustment of the plough and the first furrow width adjusting device can achieve working effect of the smooth and low energy consumption of the reversible plough. While working, the depth roller can be kept consistent with the depth of the work, and can be used as a walking wheel during the transportation.
The moldboard plow has reasonable structure, strong rigidity, high quality material, elegant appearance, double turn function with hydraulic oil cylinder, save time and fuel , high efficient . Equip with small complex plough , it can be used to cut field surface vegetation, which facilitates the straw and seeds by deep cover to fertile field, stable traction, well-cultivated, meet the requirements of agronomy and agricultural operation.
Parameters of hydraulic reversible flip plough:
1. Model: 1LFT-450
2. Dimension: 4560X2500X1760 mm
3. Weight: 1430 kg
4. Matched Tractor: 160~210 hp
5. Working depth: 25~35 cm
6. Structural type: bi-directional adjustable width plough
7. Plough body type: grid type
8. Plough Qty: 4×2
9. Plough body adjustable width scope: 350/400/450/500 mm
10. Working speed: 6~10 km/h
11. Working efficiency: 1.2-2.0 hm2/h
12. Linkage: Three-point mounted
Features of hydraulic reversible flip plough: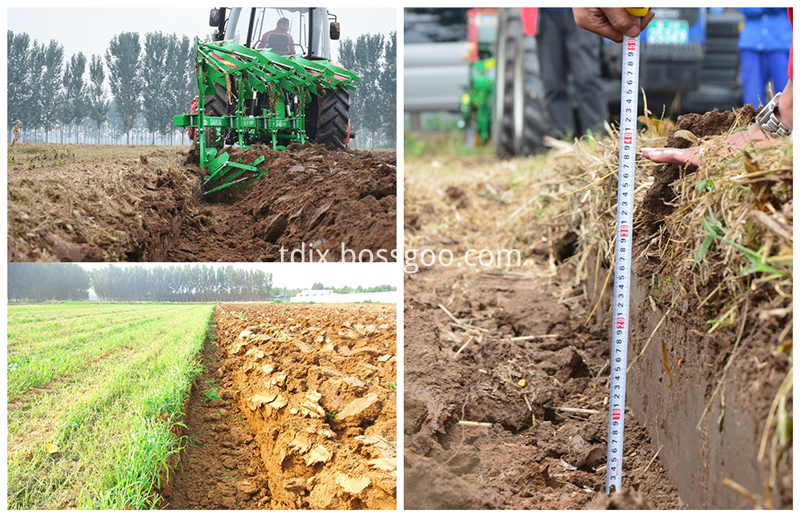 1. Pure imported materials of key parts, advanced heat treatment technology, ensure firmness and wear-resisting.
2. Unique grid structure can reduce fuel consumption and power, enhance turning effect and broken soil ratio.
3. Small complex plough is easy to disassemble and adjust, effect is better in wheat stubble field.
4.Through adjust traction line of plough and the width adjusting device (adjusting the internal and external screws) , it can realize working effect of turning smoothly and low-energy of reversible plough . The central regulating rod is easy to operate when adjusting plough working width, and can be adjusted to the ideal state quickly.
5. The depth roller can realize the function of limit working depth, keep working depth is consistent, and can be used as road wheel in transportation (some models have this function).
Applications of hydraulic reversible flip plough: