Product Description
Hydraulic offset tillage mechanical disc harrow:
Tractor mounted symmetrical heavy duty hydraulic offset harrow is designed specially for small land with steep slopes that is difficult to harrow. The heavy offset rotary disc harrow is used for breaking up the ground, shattering soil lumps and mixing crop residues into soil as green manures. This soil tillage mechanical disc harrow is mounted to tractor by 3 point linkage, the whole straucture is enough strong to perform excellently in steep land with high speed.
This series of hydraulic offset tillage mechanical disc harrow is completely mounted with tractor. During operation, the discs are rotating to turn the soil. It is suitable for operation on the land with grasses, straw and stems of crops or plants, big soil resistance with many stones and brickbat, etc. In the field, it is good at cutting the grass and straw, free from being stopped by the grass, soil or stones, etc.
Parameters of hydraulic offset tillage mechanical disc harrow:
1. Model: 1BJ-5.3
2. Weight: 2300 kg
3. Matched Tractor: 140~160 hp
4. Working depth: 14 cm
5. Working width: 530 cm
6. No. of disc: 48
7. Diameter of disc: 56 cm
8. Linkage: Three-point mounted
Features of hydraulic offset tillage mechanical disc harrow: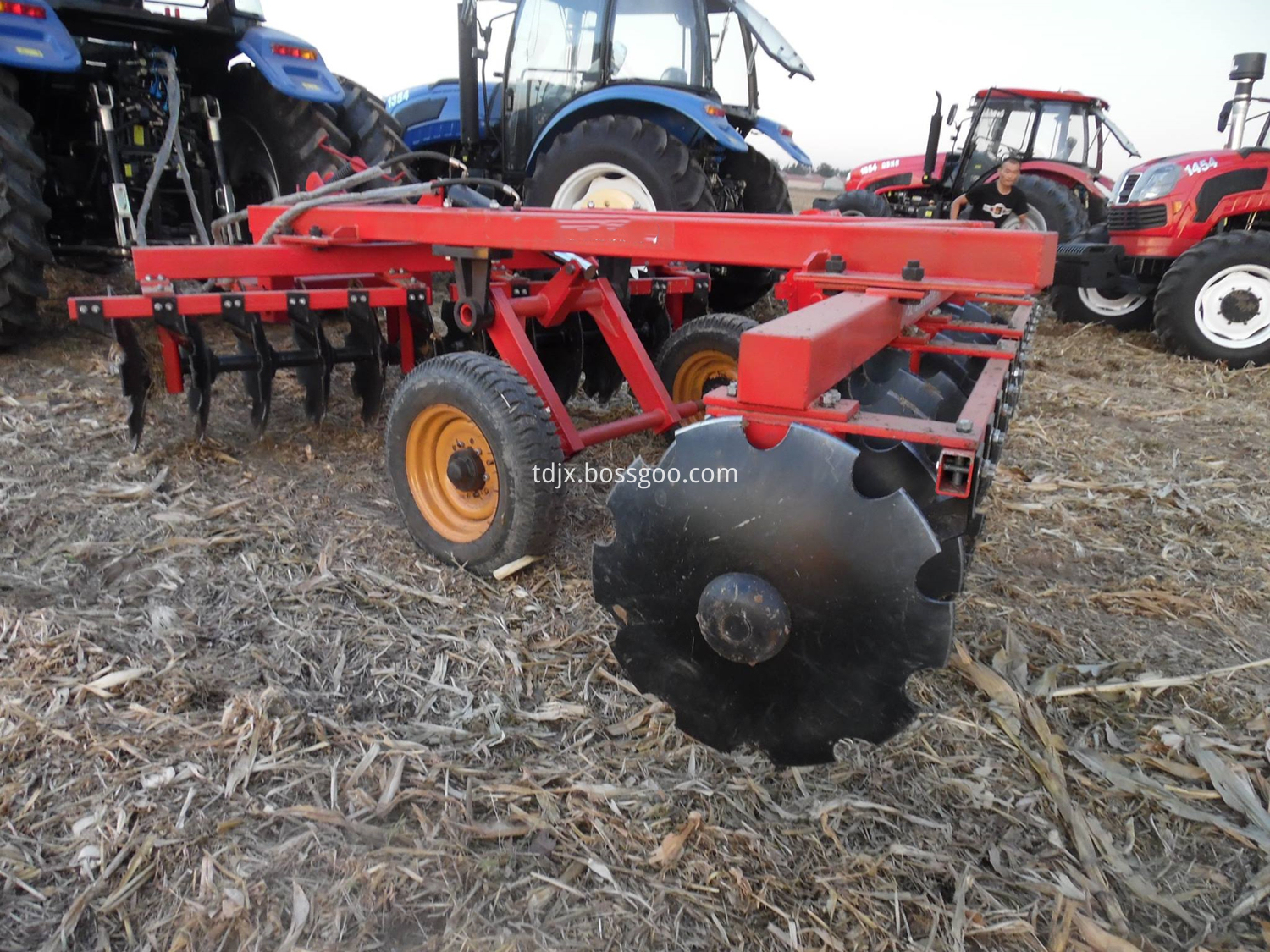 1. Replace plough for soil ploughing on the cooked land.
2. Suitable for crop stubble before tillage, ground surface slabs, straw shredding and returning to the field, and breaking soil after tillage, leveling and preserving soil moisture.
3. Flat surface behind the target, loose soil, strong adaptability to heavy clay soil, wasteland and weeds.
4. High carbon disc blade hardness: 38-44 HRC, assuring the toughness and wear ability of disc blade.
5. Compact harrow structure, convenient for assembly and adjustment.
6. High harrowing speed and efficiency when three point mounted with tractor rear.
Applications of hydraulic offset tillage mechanical disc harrow: