Product Description
Hydraulic single axle tipping dump trailer:
The 7C series farm trailer has various types form 0.5T-8T. The product has reasonable structure; beautiful appearance, economic and durable and also can match various types of tractors, it is divided into many kinds of types : single axle of two wheel trailer, double axles of four wheel trailer, hydraulic dump or no-hydraulic dump. it also can be made according client's requirements, the following parameters table is only for reference.
The tractor mounted automatic tipping trailer is used for road and field transportation.It`s convenient to maintain and durable in use. The form of damping is leaf spring, the form of traction is tripod traction. The single axle dump trailer is derusting with large shot blast machine, to change welding stress.
Parameters of automatic tipping trailer:
1. Model: 7CX-5
2. Matched Tractor: 20~60 hp
3. Outside Dimension: 3600×2000×500
4. Loading size: 4700×2100×1850
5. Loading capacity: 5 ton
6. Tire size / qty: 900-16 / 2
7. Weight: 1000 kg
8. Brake forms: mechanical, impact or air brake or choose hydraulic pressure dump
Features of 2 wheel farm trailer: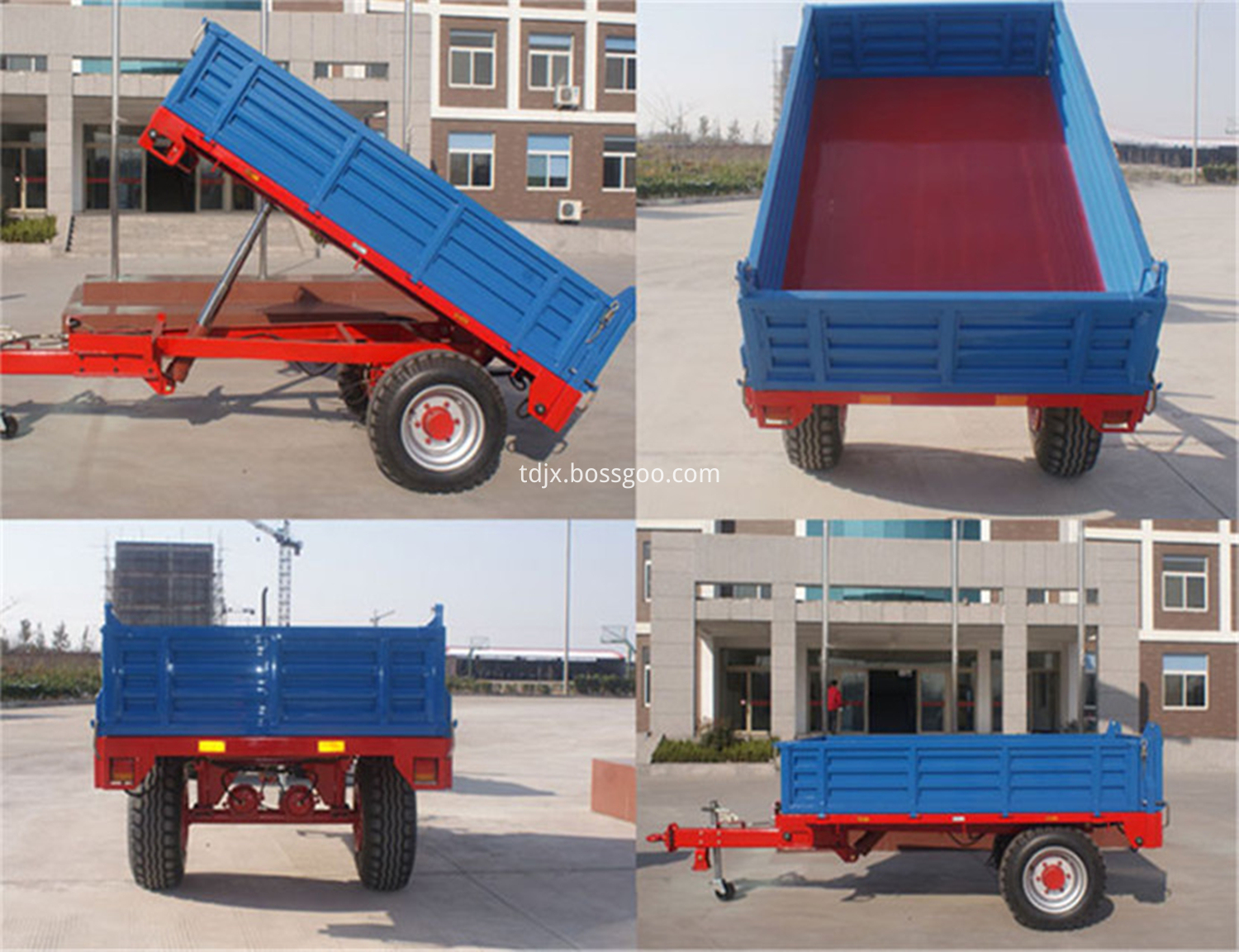 1. All standard parts are 8.8 grade and coloured. The bolt for box plate is galvanized and the bottom plate is self-locking nut.
2. Beautiful weld, uniform length and uniform, no welding spatter, leakage, false welding.
3. Trailer parts are uniform in size and interchangeable (such as front and back boxes). Adding B-pin or open pin can prevent the box board from sliding when it opens.
4. Trailer leg height is adjustable and firm.
5. Sandblasting before spraying. Paint adopts two-component polyurethane composition, baking process, high brightness, sun resistance, rain resistance, strong ultraviolet ray resistance.
Applications of farm tipper trailer: