Product Description
Farm diesel inter row pto rotary tiller cultivator
The farm diesel inter row pto rotary tiller cultivator is equipped with a large-medium size gearbox and a large modulus high-strength gear, which makes the PTO output of the tractor and the power input of the rotary tiller horizontal, which greatly prolongs the service life of the universal shaft. The new integrated suspension makes the whole machine more securely hooked, and the new bearing housing improves sealing performance. This series of rotary cultivator for tiller can be equipped with special deep-cultivating knives and extended rotary cultivators. Under effective conditions, the cheap 3 point rotary tiller working depth is 8~18 cm, which is the ideal choice for your higher requirements for soil preparing.
The large-medium size gearbox series tractor pto rotary tiller adopt low size gearbox, five module gear transmission, matched with 20-40hp tractors, working width is 100-160cm, the machine is light and durable, it is the first choice for small farm land.
Parameters of inter row pto rotary tiller cultivator:
1. Model: 1GQN-230
2. Dimension: 1275X2550X1180 mm
3. Weight: 510 kg
4. Matched Tractor: ≥90 hp
5. Working depth: 8~18 cm
6. Working width: 230 cm
7. Qty of rotary blade: 64
8. Gear speed ratio: 13/27 14/26 15/20 15/25
9. Linkage: Three-point mounted
Features of inter row pto rotary tiller cultivator: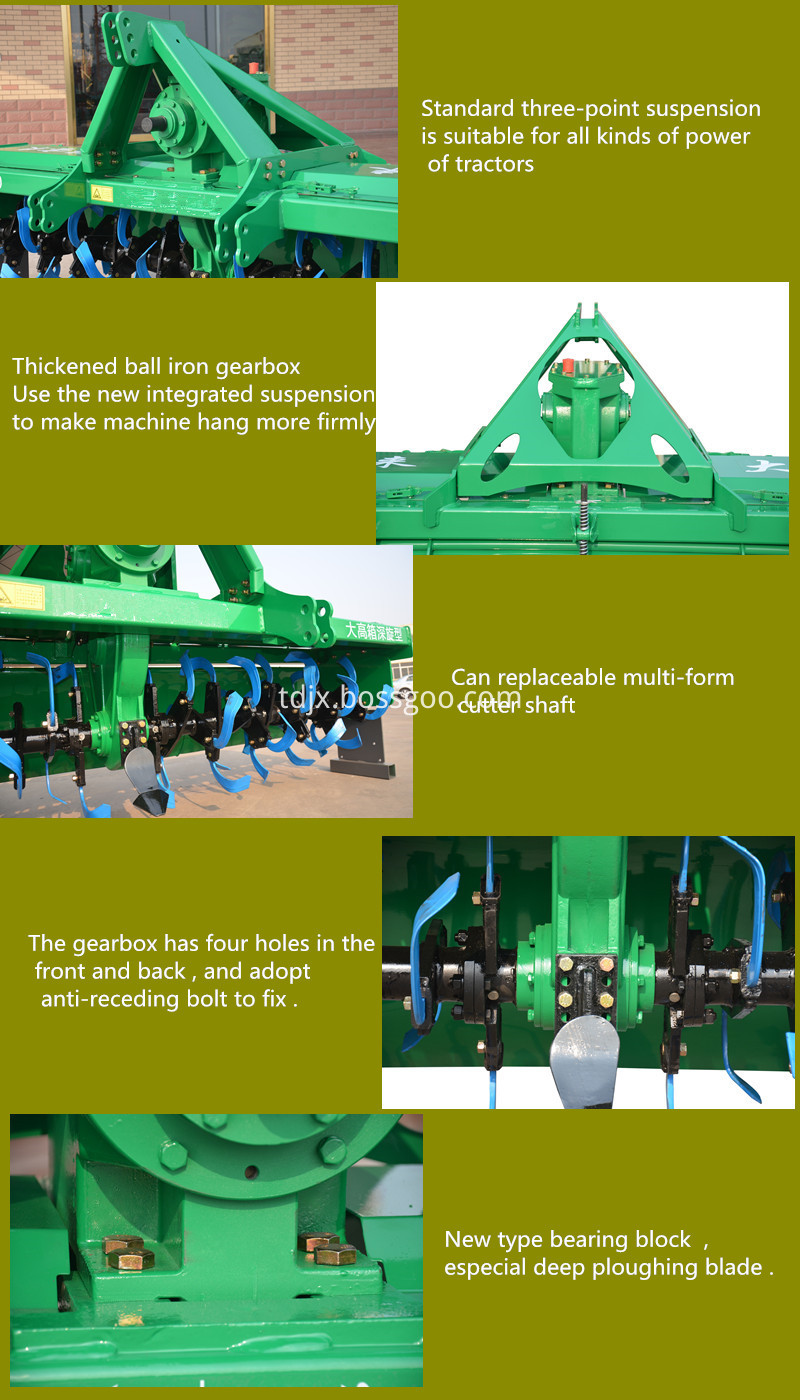 1. Standard 3 point suspension is suitable for all kinds of power tractors.
2. Thickened ball iron gearbox. Use the new integrated suspension to make machine hang more firmly.
3. The rotavator can replaceable multi-form cutter shaft.
4. The gearbox has four holes in the front and rear, and adopt anti-receding bolt to fix.
5. The rotary tiller has new type bearing block and especial deep rotary blades.
6. Rotary tiller machines working deep: 8--18cm.
7. Enhance gearbox and inside with big modulus high strength gear, make tractors PTO output and the rotary cultivator in level state, greatly extend the service life of the universal drive shaft.
8. The rotary tiller can equip with special deep tillage knife shaft and lengthened rotary tillage knife .
Applications of inter row pto rotary tiller cultivator: